Get A Weed Free Lawn The Easy Way!
Get rid of weeds without risking your back with this long-handled weeding tool. The 39" tall handle lets you remove the weeds without having to bend over or go down to your knees. The foot pedal lets you put enough force on the weed remover to penetrate the ground and grab the whole weed, including the roots, so it doesn't grow back.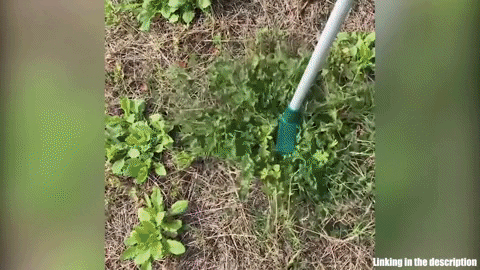 SUPER EASY TO USE!
The step and twist garden/lawn steel weeder makes it easy to remove any weeds, including dandelions. being able to grab weeds and their roots for permanent removal, the weeder ensures comfort and easy usage. Ideal for the permanent removal of many weeds, including dandelions, thistles, and other invasive ones with ease. Simply Press down, Twist, and Pull Out!
❌

 STOP USING HARMFUL CHEMICALS THAT CAN CAUSE HARM TO PETS  ❌
HIGHLIGHTS
✅ Built To Last: Made with tough aluminum with plastic eject mechanism.
✅ Application: Good for prying and removing thistles, dandelions, crabgrass, chickweed, and other common garden weeds.
✅ Gets To The Roots: Long prongs grab the root from multiple directions, aerates the soil for a healthy lawn.
✅ No Chemicals Required: No chemicals required, no bending or back strain.
✅ Easy To Operate: It keeps the tension off your back and comfortable while gardening makes weeding easy.
DON'T JUST TAKE OUR WORD FOR IT!


Specifications:
Material: Aluminum, ABS, PP
Color: Silver+Green
Size: 19.7in. x 8.6in. x 2in.
Package Included:
1 x Weed Puller
1 x set of accessories
FREQUENTLY ASKED QUESTIONS:

Q: Does it work well with dandelions?
A: It will work fine with dandelions. Works better if the soil has moisture in it. Dry clay soil may cause the prongs to bend when you twist the weed for removal. It will leave a small hole in your soil where you've removed the weed, but that should fill in soon. Look at it as aeration of the lawn.

Q: How far down does it remove the roots?
A: The Garden Puller™ tongs extend 2.75inches into the group and will pull as deep as that.
Q: How does this work for people who have bad arthritis?
A: The Garden Puller™ is ideal for people who have bad back problems or issues with arthritis, since the design of the Garden Puller™ allows you to stand straight up and the handle designs for easy twisting with little wrist bending.