The all-Natural Solution Removes 3 Years of "Hard Water" and Calcium Build-up in Seconds!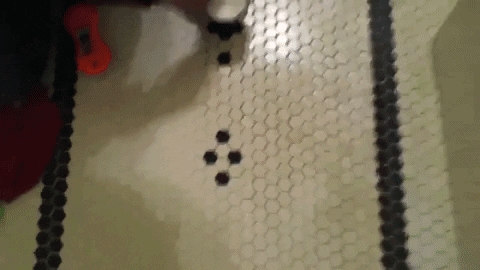 "I am completely impressed with how simple Universal Stone Cleaner is to use and how it cleans all surfaces, safely. YES – it is safe!"
Not only does it clean, but it polishes. You can polish flatware, silverware, chrome, brass, stainless steel – the list continues.

Universal Stone is safe on glass, mirrors, granite, tile, stainless steel… you name it. It will not scratch your surface but will remove almost anything including permanent marker, grease build-up, smoke/fire stains, etc.

I cleaned the grout in my bathroom, it was amazing. I have never had my tile and grout this clean. Not even close. I DID NOT WEAR GLOVES and my hands were soft and felt great afterwards. Your skin will thank you for not using chemicals.

I'm using more effort than probably usually needed, but the grout hasn't been cleaned in over 3 yrs (or longer, it wasn't clean when we moved it – yuck)… I couldn't figure out how to get it clean until I found Universal Stone Cleaner™!

✅ Removes 3 Years of Built-Up Grime - Universal Stone Cleaner™ was designed to remove the toughest of spots including hard water marks and calcium build-up!
VARIETY OF DIFFERENT USES!
✅ Shine up Old Golf Clubs!
✅ Shines Faucets, toilets, and shower doors to brand new!
✅ Restores shoes to a brand new shine!
42% OFF for a limited time only. Just Click

Add To Cart

to get yours now!

PRODUCT SPECIFICATIONS

Package Dimensions:

 

5.59 x 4.17 x 2.76 inches

Weight: 1.43 Pounds

Includes: 

1 Container of Universal Stone Cleaner & Universal Stone Cleanin Sponge
If you're looking to return your order for whatever reason, we're here to help! We offer hassle-free returns within 30 calendar days of receiving your order. For more details please visit our return policy page.

Email: Support@dotcomproduct.com

Phone: 833-568-2565