*EACH PACK CONTAINS (2) FLICKER SOLAR TORCHES*
Enjoy The Ambience of Flickering, Warm Color From These Solar Torches!
Then you are going to love our Bright Flickering Flame Outdoor LED Solar Light! It is a safe and attractive alternative to a real flame torchlight. It casts a soft mood-enhancing realistic flame light, all while being very clean, safe, and efficient.
Each unit is powered by 96 LEDs that flicker a warm yellowish tone of light, mimicking a realistic natural-like dancing flame, providing just enough light to illuminate the area around it without being too bright, and creates a tropical Tiki-like environment all while being completely maintenance and hassle-free!
It is completely self-sufficient being that it's solar-powered, which means that it charges itself during the day using the power of the sun and illuminates all night long, only needing about 6-8 hours of daily sunlight exposure to maintain a healthy cycle of operation after it's initial 2-3 day charging period before first use.
This Solar Flame Light makes for the perfect gift for almost any occasion, it's also a great conversational piece that will earn all your guest's and neighbor's compliments. Great for Patios, Yards, Pathways, Pool Areas, BBQ Areas, Decks, etc...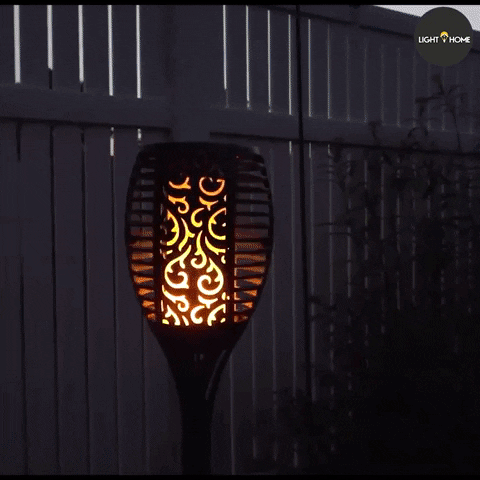 HIGHLIGHTS
✅ REALISTIC FLAME EFFECT - Consist of 96 LEDs, the solar torch lights produce realistic dancing flame fire with no fire and no smoke; Safe and environmentally friendly; Suitable for dating, parties, camping, barbecues, and any other occasions.

✅ SOLAR POWER SUPPLY - The solar panel collects enough solar energy from sunlight and converts the energy into electricity at night; It will turn on at dusk and turn off at dawn automatically, also can be controlled with the manual switch under the lamp head.

✅ LONG WORKING TIME - Designed with a built-in high-capacity 2200mAh battery, these flickering solar lights can work for 8-10 hours after every full charge, while every charge takes 5-10 hours; Detachable design makes it convenient and portable to carry with you anywhere.
✅ WATERPROOF - This flickering flame solar light is crafted with IP65 waterproof rating and high-quality dust-proof material, which shows great weatherability: it can withstand rain, hail, snow, and heat.

✅ EASY INSTALLATION - No tools needed; Just insert the flame solar lights into the ground of the lawn, garden, pathway, beach or install on the wall with T-wall stakes; The height can be adjusted to 13 inches or 32 inches with the added accessories in the package.

✅ Solar Power Charge - No wires needed. The solar panel collects sunlight during the daytime and directly converts solar energy into electricity at night. With an internal light sensor, it automatically turns off at dawn to charge and turns on at dusk to give off romantic lights.
✅ Easy Installation - Just connect the light to included ground stakes or T-wall stakes to insert into the ground or connect to other apparatus. It can be fastened on a fence, bridge, or wall when connected with a screw-in base (screws provided).

Product Specification:
Solar Panel: 1.2W, 17% efficiency
Li-ion Battery: 2200mAh
LED: 96pcs
Lumens: 350 lm
Led Life: 50,000hrs
Solar charging time: 5-10 hours
Li-ion battery span time: 500 times
Solar panel span life: more than 3 years
50% OFF for a limited time only. Just Click

 

"Add To Cart"

 

to get yours now! 
FREQUENTLY ASKED QUESTIONS:

Q: Do these solar candle lights attract insects?
A: No, the Flickering Solar Tiki Torches do not attract insects!
Q: Can they be left outdoors when raining?
A: This flickering flame solar light is crafted with an IP65 waterproof rating and high-quality dust-proof material, which shows great weather-ability: it can withstand rain, hail, snow, and heat.

Q: How tall are the torches?
A: The height is 31 inches.
Q:  Is the top of the solar panel glass or plastic?
A: Hardened Plastic that way the solar panel is not prone to cracking. I guarantee you will love them.
WARM TIPS:

Please put it under standard sunlight for 12 hours before use

Waterproof in rainy and wet conditions, but do not immerse it in water

Long time exposure to humid space will shorten the life of the solar step lamp

The working efficiency of the solar panel will be affected by weather, location, and light
🇺🇸 

FAST US SHIPPING ONLY 

🇺🇸 

If you're looking to return your order for whatever reason, we're here to help! We offer hassle-free returns within 30 calendar days of receiving your order. For more details please visit our return policy page.

Email: Support@dotcomproduct.com

Phone: 833-568-2565

 
50% OFF

 

for a limited time only. Just Click

 

"Add To Cart"

 

to get yours now!